So I've already missed quite a few Sundays since I made the goal of posting something at least once a Sunday. But I have good reason… honest. Someone I'm very close to passed away and a week later, so did the dog I rescued 11 1/2 years ago. I've been heartbroken. I actually made my next discovery on the way to pick up her ashes. I knew I'd break down a bit so I thought I'd try to cheer up somewhat so that I could at least make it back in my car before I burst into tears. I barely made it. It was very surreal to be handed a very lightweight black velvet bag after carrying her in there and stroking her soft black fur and be expected to believe they are one in the same. But wait, there's more. I was told bluntly by a doctor that I have a hole in my brain from a surgery I had and I needed to stop expecting so much of myself… like say… returning a "real" job. And that the symptoms that led me to discover and that had actually pressed the need for that surgery had returned, but this time are a permanent part of me. You are probably even witnessing those symptoms in this very poorly written book paragraph. But it's all good, because it made me come to some realizations… like… that this IS my "real" job now and that I had better get to work!
Ok, that's enough excuses and whining for my absence and I'll get back to why you're probably here (I'm saying this as if I even have a following yet).
I discovered Georges Briard and I have to say, I'm now in love with a lot of his pieces.
I mean, how can you not love these vintage Georges Briard Owl Glass Tumblers at Wintergreen Vintage?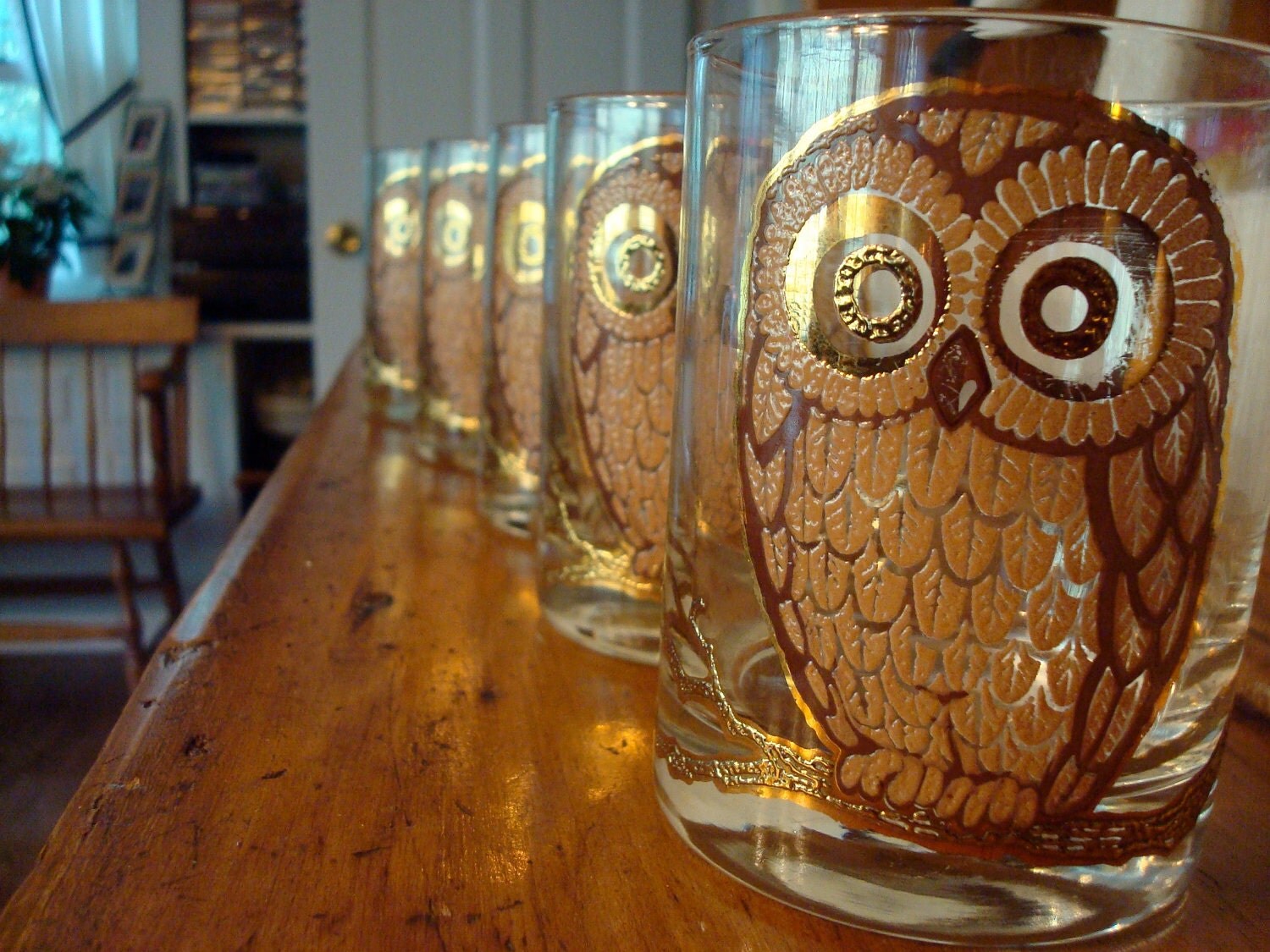 They are a hoot right?
Or this vintage butterfly coffee pot for sale at 3rdgenerationgypsy? A drink of Joe from this lovely might convince me I could fly right through the day.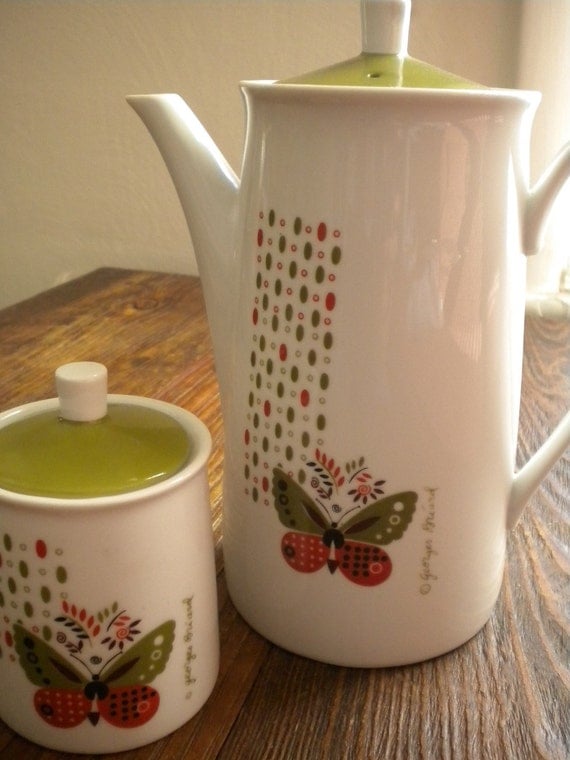 Or if you still haven't managed to kick a certain habit that was so trendy when these were made, how would you like this gorgeous lemon tree ashtray for sale at Closet and Collectibles? I know it's difficult to find a pretty ashtray these days… I'm not even a smoker and know that! Wow, there's room for a lot of burning cigarettes in this one, isn't there? And just so you know, if you ever find one of these in my house, it would be for decor purposes only. Or any use other than smoking. These lungs are going to stay as smoke free as I can possibly keep them! No, sorry, the lemon won't hide the smell of the cigarette butts, not even real lemon could do that… you might think it does, but it doesn't. You'll just smell like cigarettes and lemons, trust me.

Do I have you convinced?
No?
Cutesie not your style?
Georges also designed some very interesting pieces like these bar glasses (Google find, source unknown),
and these Skull and Crossbones Poison Bar Glasses found at Mood Indigo.
Crazy right? Most days, the first ones are fitting for me, but I'll admin, the second one might come in handy. I mean, you could probably actually get away with putting real poison in them and serve it to say… the girl that keeps hanging on your husband or boyrfriend. They are clearly labelled, so clearly, that should clear you of all wrong doing… right? Wow, it's clearly clear that I like all forms of the word clear right now.
If you are curious about other patterns, you can view more of them at Replacements Ltd, but you can be sure I'll be showing you more of his items in the future.
So, you might be wondering who this Georges Briard person is. So did I. Well, he didn't really exist actually, at least not in name. His birth name is Jascha Brojdo and he was born in the Ukraine. He immigrated from Poland to the US when he was a young adult in the late 1930′s and served in the Army during WWII as an interpreter. His designs were sold at high end department stores, with their popularity at its peak in the 50′s-70′s. He died in 2005 at the age of 88. His pieces are very popular, but they are easy to find which at present keeps them affordable. They are a fabulous example of Mid-Century Modern/Ames Era entertaining pieces that shows like Mad Men have made us fall in love with all over again. Serious fans of Georges Briard can try to seek some of his artwork, which he signed under is true name.
So what will your first Georges Briard piece be?
Mine is a gorgeous butterfly tray similar to this one that has already been sold at Eclectic-Vibe, but mine is much larger and I'll replace the photograph below with an actual photograph of mine as soon as I can.
It's so great to discover something you don't know you even love!